Multi-station Tube End Former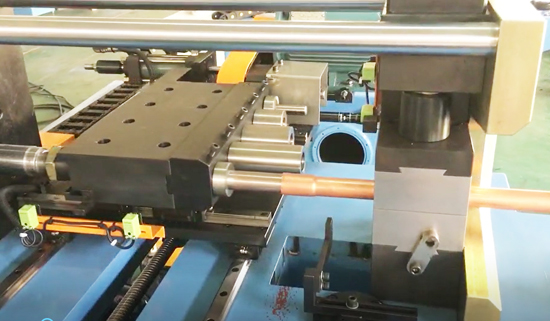 This machine is designed in horizontal auto-changing forming station, capable for various copper tubing works, such as expanding, reducing, ribbing, mouth ordering, etc.
There are six stations, five are of direct-pushing type, one stations is of spinhing-head type. Exchanging among 6 stations is achieved by servo motor and program preset on HMI, especially suitable for copper manifold production: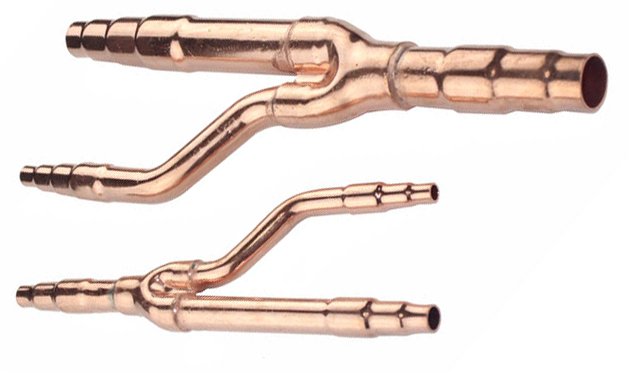 This machine is equipped with hopper for blank tubes, auto feeding.
This machine is PLC control, HMI operation, simple and convenient.
Main technical data
| | | |
| --- | --- | --- |
| No. | Item | Data |
| 1 | Applicable copper tubes | Straightened cut tubes |
| 2 | Applicable copper tube diameter | Max. 60mm |
| 3 | Applicable copper tube wall thickness | Max. 2.5mm |
| 4 | Min. cut tube length | 40mm |
| 5 | Min. linear length of reduction/expansion | 20mm |
| 6 | Max. processing stroke | 100mm (adjsutable) |
| 7 | Coaxiality between finished end and tube center | Less than 0.1mm |
| 8 | Out-of-roundness of finished end | Less than 1% of tube diameter |
| 9 | Max. Processing depth error | Less than +/-0.5mm |
| 10 | Single action duration | 2-3 seconds |
| 11 | Hydraulic pressure | Max. 12MPa |
| 12 | Hydraulic pump motor power | 7.5kW |
| 13 | Spinng motor power | 3.75kW |
| 14 | Servo motor power | 0.75kW |
| 15 | Reducing / expanding die material | Cr12MoV, quenched HRC 58-62 |
| 16 | Hydraulic station cooling method | Compulsive air cooling |