Well Type Vacuum Annealing Oven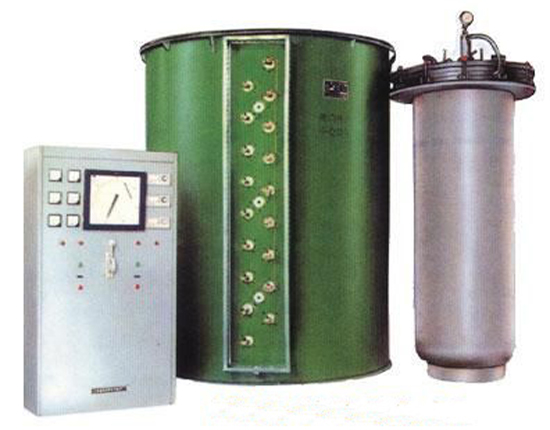 I Description of vacuum annealing oven
This furnace is annealing, tempering and other heat treatment purpose.
Composition:
1) One well-type heating furnace body
2) Two stainless steel internal furnaces
3) One PID control panel
4) One 2X-30 vacuum pump system
II Main technical data
2.1 Internal furnace effective size: Φ1000 x 1500mm (H)
2.2 Max. heating temperature: 750℃
2.3 Working temperature: 500~550℃
2.3 Heating power: 90kW
2.5 Temperature control sections: three (upper, middle and lower sections of internal furnace)
2.6 Temperature control precision: +/-2℃
2.7 Temperature evenness inside furnace: +/-5℃ (in the later stage of temperature keeping)
2.8 Max. temperature rise on furnace outer cover: 35℃ + ambient temperature
2.9 Max. one-time loading capacity: about 2.5T
2.10 Vacuum pump: 2X-30 rotary vane, pump power 5.5kW, exausting speed 70L/s.
2.11 Noise level: 80dB
III Structure of the furnace
3.1 Well-type heating furnace body:
- Bottom is made by 12mm steel
- Surface is 20mm steel plate
- Shell is reinforced by 5mm channel steel
- Furnace lining is 400mm thick formed high temperature resistant ceramic fiber bricks, covered by one layers 20mm thick ceramic fiber felt
- Furnace bottom is covered by light alumina bricks
- Heating component is Cr20Ni80 flat belts, wave-shaped fixed on inside wall by ceramic nails
3.2 Stainless steel internal furnace
- Both body and bottom head are made by stainless steel SUS310, 10mm thick; bottom is dished end shape for higher pressure.
- Furnace top cover and flange are made by 30mm thick Q235 steel, equipped with water-cooling sleeves for protecting rubber seals
- Gas filling is from bottom, stainless steel valves
- Top cover is equipped with vacuuming pipeline, gas drainage valve, vacuum pressure meter and safety valve.
- Inside have thermocouples, 3 sets controlling temperature
3.3 Control panel
- PID controller
- Power adjuster
- Non-paper recorder
- Vacuum pump controlling