Microchannel Aluminum Tube Straightening & Cutting Machine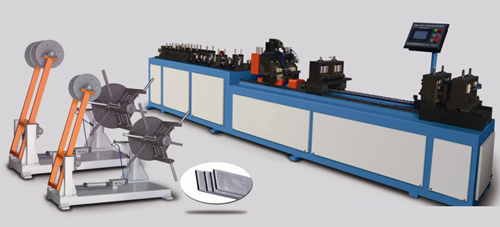 I Description:
Parallel-flow condenser in automotive air conditioner uses microchannel flat aluminum tube which is also called as multiport tube.
This machine is specially designed for decoiling reel shaped microchannel aluminum tube, straightening and cutting to length automatically.
This machine adopts special nicking cutting technology, chip-less and very small deformation on cutting section.
And the machine has special function for nicking tube ends which is good for further core assembling.
This machine can cut two microchannel aluminum tubes simultaneously.
II Main Features:
- Servo feeding, stable and high re-positioning precision
- One time cutting two pieces, high efficient
- With special stretch-breaking cutting function, less mouth shrinking rate
- PLC control, high automation – auto decoiling, auto feeding, auto cutting.
III Main Technical Data:
Item

Data

Suitable material

Coil flat aluminum tube

Flat aluminum tube width

12-32mm

Flat aluminum tube thickness

1.2-3mm

Aluminum coil size

Outer diameter: 1200mm

Inner diameter: 450-500mm

Height: 300-350mm

Weight: max. 300kg

Cutting pieces

2

Cutting length

Min. 100 mm, no max. limit

One-time feeding stroke

200-900 mm

Cutting speed

15~22 cuts per minute (@500mm length)

Cut-to-length precision

≤ ±0.2mm (@ 500mm length)

Straightening width error

Less than 0.02mm

Straightening thickness error

Less than 0.04mm

Straightening precision in width direction

Less than 0.4 / 800mm

Straightening precision in thickness direction

Less than 0.8 / 800mm

Duration for changing cutting blade

≤ 5min

Duration for changing tube width

≤ 15min

Total electric power

About 5kW

Air source

0.5-0.7MPa

Total weight

About 3000kg

Main machine dimension

About 6000 x 850 x 700mm
IV Main configurations
- PLC & HMI: Delta from Taiwan
- Servo motor & driver: Delta from Taiwan
- Linear guide: TPI from Taiwan
- Contactor& circuit breaker: Schneider (Chinese joint venture)
- Approaching switch: Omron from Japan
- Pneumatic components: Airtac from Taiwan