Copper Tube Straightener & Cutter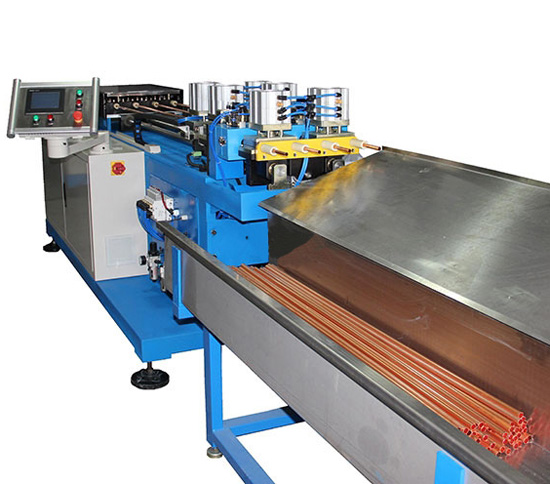 I Main features:
- Servo feeding, accurate cutting length tolerance
- One time cutting four pieces, high efficient
- Pull-apart method eliminates ID reduction of tube end
- Clean, chipless and burrless cutting, no need further end processing
- PLC control, high automation—auto feed, auto cut, auto unload, auto alarm.
II Main technical data
No.

Item

Data

1

Applicable copper tube

Coil, TP1/2 (M/M2)

2

Copper tube diameter range

Ф6.0~Ф20mm

3

Copper tube wall thickness

0.3~1.0mm

4

Cutting length range

40~6000mm

5

Pay-off device

4

6

Copper coil reel size

OD: 1000~1250mm; ID: 130mm, weight: max. 280kg

7

Cutting stations

2x2 or (1x4)*

8

Cutting speed

10 cuts per minute (@L=1000mm)**

9

Feeding speed

Max. 0.5m/s

10

One-time feeding stroke

Max. 1200mm

11

Straightness tolerance

≤2‰

12

Cut-to-length tolerance

≤0.3mm /1000mm

13

Length difference between tubes

≤0.5mm

14

Tube end ID reduction ratio

f < 20%***

15

Roundness of cut tubes

Non-roundness ≤3% (diameter ≤Ф12.7mm)

Non-roundness≤0.4mm(diameter>Ф12.7mm)

16

Surface condition after cut

No apparent scratch, drawing marks; no burrs

17

Compressed air

0.5-0.7MPa

18

Total electric consumption

6kW
* 1- 2x2 means there are two separate driving system for cutting 2 pairs tubes in different diameter and different length; 1x4 means there is only driving system for cutting 4 tubes in same diameter and length, two different options.
** 2- When cutting length is less than 100mm, there will be no pre-stretching function.
*** 3- Tube end ID reduction ratio means:

f= (d1-d0)/d0%

III Main buildup
3.1 Pay-off device: active decoiling, with clutch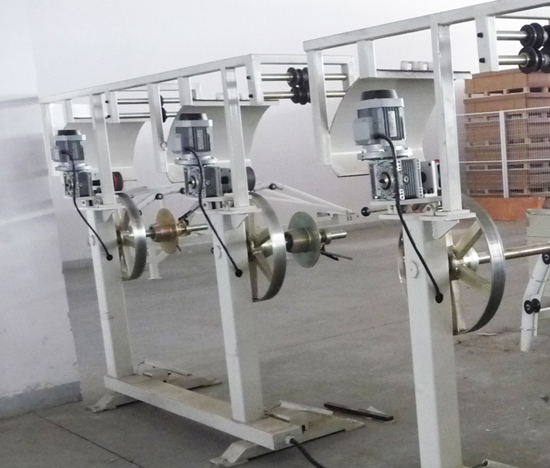 3.2 Straightening & rounding device: straightening deformation can be adjusted for different hardness copper tubes. When size changing, rounding wheel and straightening wheel will be changed.
3.3 Feeding device: driven by servo motor; Pulling and clamping dies are driven by enhanced pneumatic cylinders.
3.4 Cutting device: orbital-notching + stretching method, pneumatic driving feeding stroke of orbital blade, stable feeding and quick returning; The feeding stroke can be fine adjusted to assure same mouth shrinking rate; Equipped with lubricant spraying device for lengthening blade life.
3.5 Unloading table: covered with stainless steel, 1500mm long
3.6 All the clamping dies are made by chrome steel, quenched HRC 50
3.7 Control system: PLC + touch screen