Integrated Copper Tube Collar Hole Punching and Bending Machine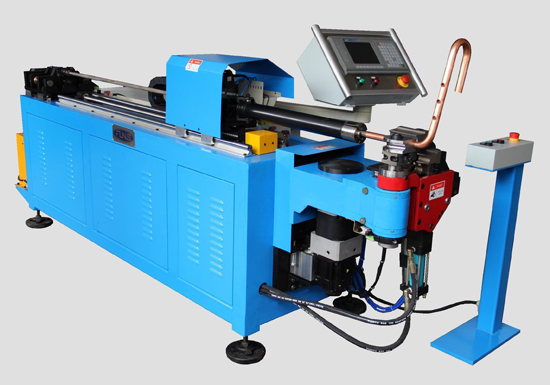 This machine is integrated with collar hole punching and 3D bending functions together, full automatic, high precision and high efficiency.
It can only bend or only punch collar holes as well. Collar hole punching can be at any position of tube.
I Main features
1)The machine frame and body adopt keel structure to ensure machine with high intensity, rigidity, and stability.
2) The bending head is designed in integral box structure and bending arm adopts precise teeth chain as transmission, high precision.
3) Special clamping structure ensures enough clamping force, not to damage workpiece.
4) The core rod is of universal joint type, exempting from lubrication.
5) Hole collaring adopts special inside-pushing technology, no burr, no need further cleaning
6) Hydraulic system for clamping and core die movement, with compulsive air cooling
7) Machine has self-testing function for detecting original of X and Z axis and dead point alarming.
8) 8" LCD displayer, integrative antifouling keyboard
9) CNC controller can save 400 units programs for 400 products, G-M code, with RS232 interface
10) Program has auto-calibration function for bending angle and length, auto counting, auto alarming, power-off memory.
II Main technical data
Item

Data

Suitable copper tube diameter

bending

Φ 6-28mm

punching

Φ12-30mm

Suitable tube wall thickness

bending

Max. 1.2mm

punching

0.7~1.5mm

Max. bending angle

0- 200º

3D rotating angle

360º

Max. bending radius

R100mm

Min. bending radius

R20mm

Max. workpiece length

1800mm (through-type)

Min. space between two holes

19mm

Feeding stroke

0-1200mm

General bending efficiency

3~4 sec. per bend

General punching efficiency

4 sec. per hole

Feeding speed

1-500mm/sec.

Rotating speed

0-300 º/sec.

Bending speed

0-180 º/sec.

Re-positioning precision

Feeding axis

±0.05mm

Rotating axis

±0.05º

Bending axis

±0.05º

Servo motor power

Feeding axis

1.5kW

Rotating axis

0.75kW

Bending axis

3.0kW

Hydraulic pressure

3-7MPa

Hydraulic motor power

2.2kW

Power supply

380V, 3Phase, 50Hz

Machine dimension

2500 x 620 x 1300mm

Weight

About 1500kg