Radiator Core Leakage Tester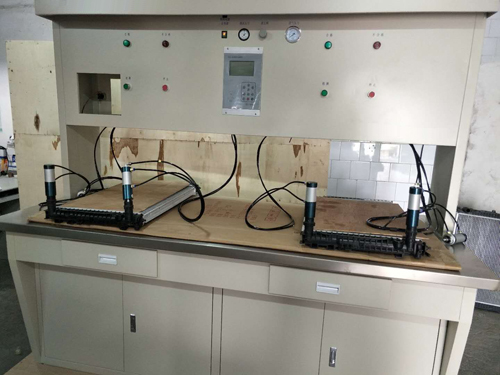 I Description & main features of radiator core leakage testing machine
This testing machine is specially designed for testing air tightness of automotive radiator cores.
- Testing pressure range is 50~400KPa.
- Double-station testing can raise your efficiency well.
- Interface of tester is very clear; operation is very convenient, one key operation, automatic stopping.
- Very high testing precision, measurable leakage ≤1pa/s.
- Very large memory, 100,000 units testing data can be saved and reviewed.
II Main features of radiator core leakage testing meter
- Very short test time by adopting advanced data collecting & processing technology
- Super high pressure resolution ratio, up to 1Pa
- Perfect circuit and pneumatic self-diagnosing function
- 4.3" large size LCD displayer, very clear and convenient
III Main technical parameters of radiator core leakage testing meter
Item

Data

Measuring range

0.2~20mL/min

Differential pressure

Min. resolution

1Pa

Sensor withstand pressure

2MPa

Test pressure

Min. displaying

1kPa

Displaying range

0~400kPa

Time setting

Filling, balancing, leakage checking, draining separately

Power source

AC 220V ±5%, 50Hz

Test source (dry clean air)

0.6MPa

Working ambient temperature

0~40ºC

Storage temperature

0~50ºC

Relative humidity

Less than 80%, without dew
IV Supplying range of radiator core leakage testing machine
1- Table for double-station & clamps|dry-type radiator leakage testing machine|dry-type radiator leakage tester|
2- Testing meter|dry-type radiator leakage testing machine|dry-type radiator leakage tester|
3- Three cylinders|dry-type radiator leakage testing machine|dry-type radiator leakage tester|
4- Seven sets stoppers (for 7 size tank mouths)|dry-type radiator leakage testing machine|dry-type radiator leakage tester|
5- Printer is optional |dry-type radiator leakage tester |dry-type radiator leakage testing machine|dry-type radiator leakage tester|dry-type radiator leakage testing machine|