Return Bender Machine for Small U Bends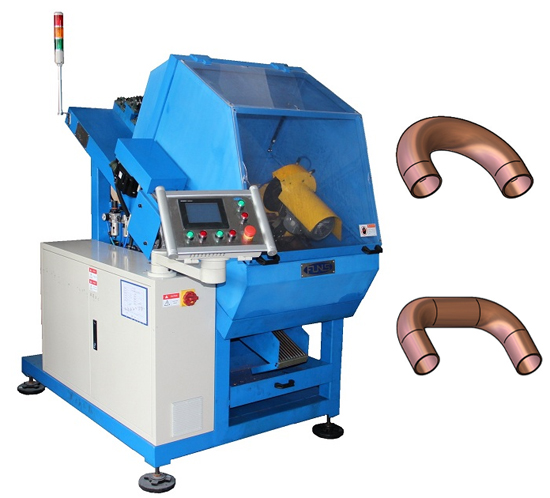 This machine is designed for both return bends and cross over bends with a simple, quick tooling change and setup on HMI.
This machine automatically feeds, bends, cuts off by hydraulic driven.
This machine is comprised of passive decoiler, straightening & feeding device, bending and flying saw cutting device, hydraulic system, pneumatic system, lubricating system and PLC control system.
Main technical data
| | |
| --- | --- |
| Item | Data |
| Suitable copper tube material | TP2 |
| Suitable copper tube reel size | Max. weight 180kg; Max. OD: Ф1100mm; ID: Ф130mm |
| Suitable copper tube diameter | Φ9.52mm / Φ12.7mm |
| Min. bending radius | ф9.52: R12.7mm / Φ12.7: 19.2mm |
| Copper tube numbers | Max. 5 pieces (for 9.52 tube only)* |
| Production speed | < 6s (one rhythm) |
| U height error | ±0.5mm |
| Length error between two ends | Less than 0.5mm |
| Radius error | ±0.5mm |
| Center distance error between two ends | ±0.1mm |
| Straightness error | Curvature ≤3mm @L=1000mm |
| Flattening ratio at tube ends | Less than 5% |
| Thinning ratio at loop area | Less than 30% |
| Burr height at two ends | Less than 0.2mm |
| Finishing quality | No wrinkle, scratch, crack, dimple, bulge |
| Total electric power | 5kW |