Radiator folded B type aluminum tube mill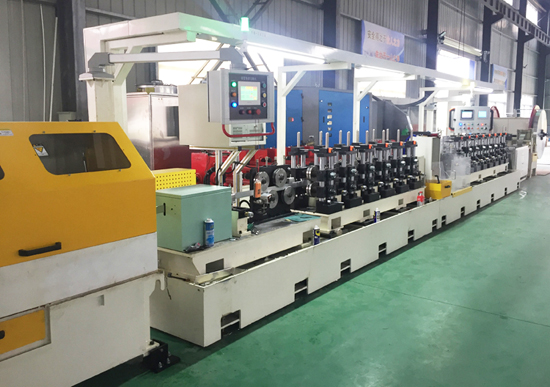 The folded tubes are produced from brazing sheet coils by a multi-step roll forming process – bringing the sheet gradually into a "B" shape. Comparing to traditional HF welded flat tubes, B-tubes have certain advantages – particularly regarding strength. The folded ends of the tube sheet are brazed inside the tube, which creates a very robust bridge between the walls. This results in higher burst pressure resistance.
And thus thinner aluminum strips can be used to decrease material cost of radiator tubes.
Further more, heat transferring result of radiator cores by folded B tubes is better than that of HF seam-welded tubes.

Tube rolling moulds are designed in quick-changeable cassette type. By changing this kind of cassette, other size aluminum tubes can be produced as well.
This machine can 100% replace those aluminum pipe mill from Schoeler Germany, Millmaster USA or Mori Japan.
Production flow:
- Aluminum strip reel loading by vacuum absorber loading device (optional)
- Aluminum strip decoiling by twin-head active decoiler
- Aluminum strip feeding by synchronization feeder with buffer
- Roll forming by 15 stations rollers, including online dimpling
- Cutting to length by non-stop high speed cutter
- Transmitting, with bad tube separating & collecting
- Auto tube stacking system (optional)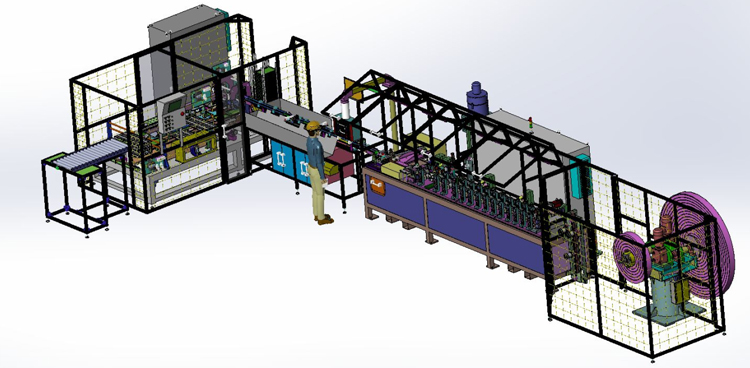 Main Features:
- Servo screw pump pasting brazing flux on internal surface before forming, programmable, real-time visual inspection, assuring pasting quality and further brazing quality
- Special roller designing and adjusting technology for various aluminum pipe forming
- Quick roller changing, only two workers and 60 minutes to finish size changing
- Perfect coordination between dimpling and cutting devices, margin length can be set freely
- Dual-station tube transmitting belt, capable for separately collecting good and bad tubes
- Special cutting device, supper high speed cutting catching the whole line speed, max. Cutting speed 300 tubes/min.
- Dimpling and cutting are matched ideally, margin length on tube end can be freely preset
- Equipped with safety barrier, protection cover, door switch and voice-light alarming
- Equipped with oil mist collecting device, recovering rate >85%
Main Technical Data:
| | |
| --- | --- |
| Item | Data |
| Suitable material | Pure aluminum or aluminum alloy 4343/3003/7072 or 4343/3005/7072 |
| Applicable B tube size | 16~32mm x 1.4~2.5mm x 0.18~0.35mm |
| Finished B tube outline dimension error** | ≤±0.05mm |
| Suitable tube length | 200~1200mm |
| Applicable aluminum strip coil size | Max. OD:1900mm; ID 290~310mm; max. Weight 500kg |
| Production speed | Max. 120m/min |
| Cut-to-length precision | ≤ ±0.5mm |
| Life of cutting blades | More than 0.2 billion cuts |
| Duration for changing rollers | 60 minutes (cassette changing) |
| Total electric power | About 25kVA |
| Air source | 0.5-0.7MPa, 0.5m3/min |
| Noise level | ≤75dB (@1.5m away from safety barrier) |
| Lubricant mist collecting rate | More than 85% |
| Total weight | About 4500kg |
| Whole line dimension | About 14.3m x 5.1m x 2.2m (including tube stacking system) |
** For folded B tube quality, there are below important parameters to be promised: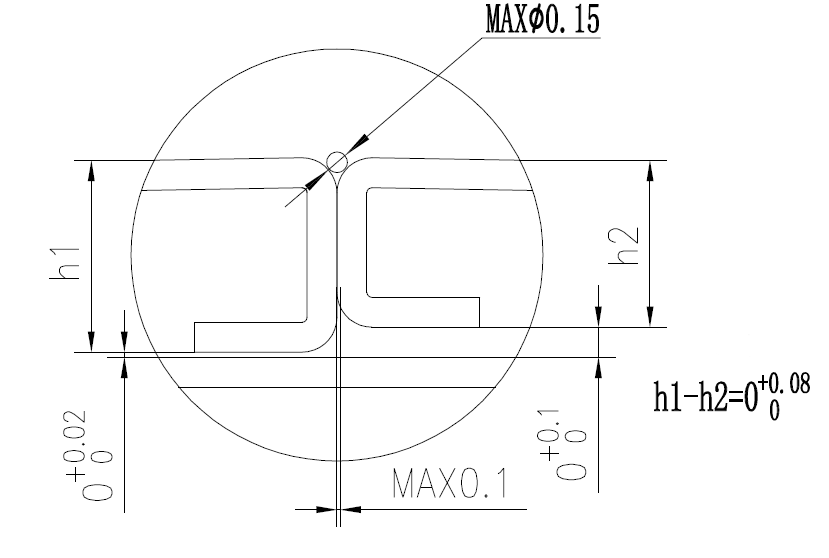 Diameter of Delta area is not more than 0.15mm.

Two legs height difference is not more than +0.08mm.